Mobil-Mark Quasar
Das einzigartig universelle Lasermarkiersystem
A patented solution for highly efficient, long-lasting marking
The unique feature of the Quasar fibre laser is its patented laser protection. It allows for the direct laser marking of workpieces, without any additional protective equipment or protective housing. Unlike conventional industrial lasers, Quasar is designed to be mobile and can be transported on wheels. This makes it possible to mark large workpieces without the hassle of needing to move them; they can be marked wherever they are located. The laser comes to the workpiece, not the other way around.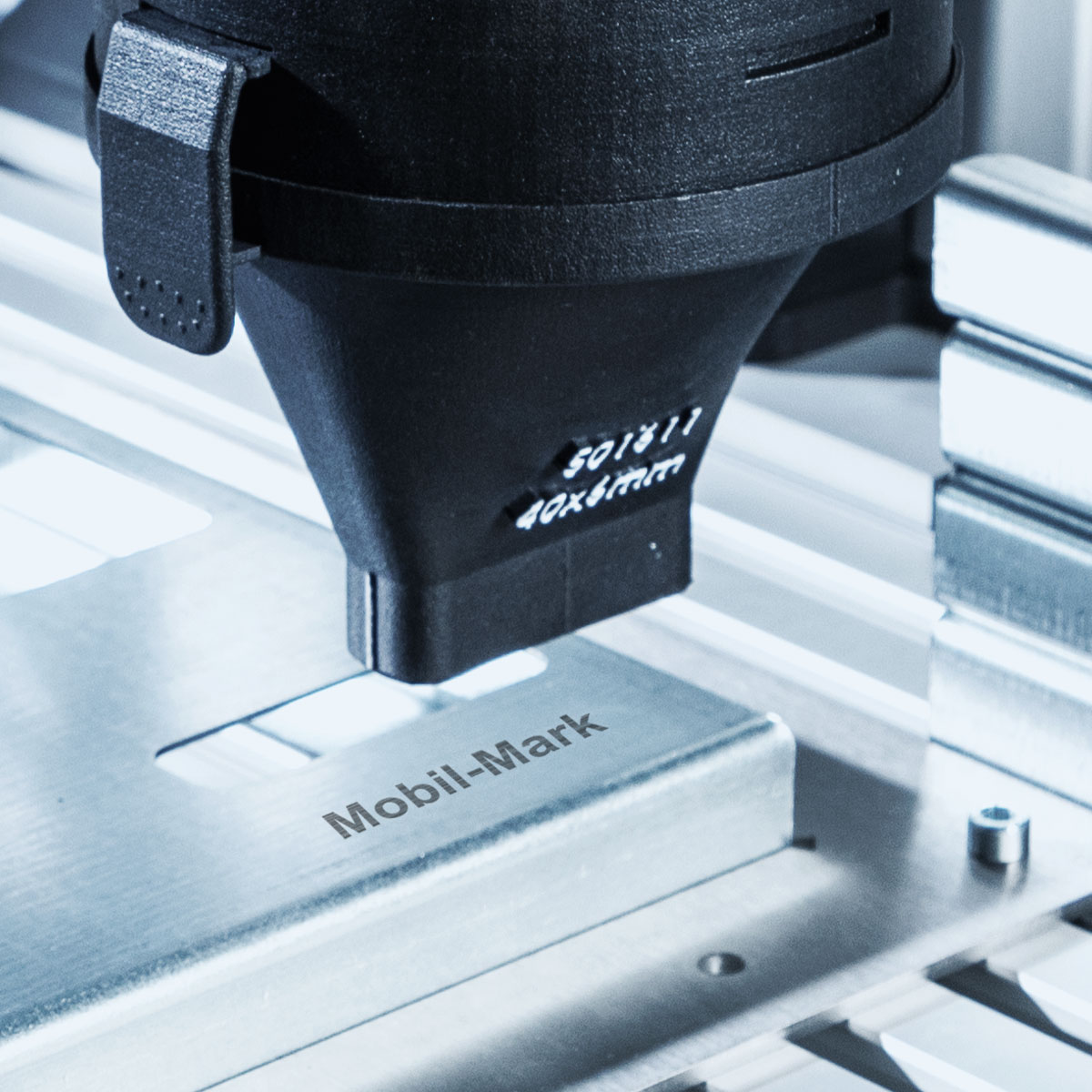 The right protection class for every application
Three factors are decisive in selecting the protection class of the Quasar: material/surface, engraving depth, cycle time (duration of laser engraving). The rule of thumb is as follows:
Ihre Vorteile im Überblick
Ideal for your requirements
Quasar is available in three performance classes: 20 W, 30 W and 60 W
Patented protection system
makes additional protective equipment unnecessary
Precise, elegant engraving
thanks to the extremely small laser beam diameter of approx. 20 µm (80 mm lens)
Flexibility thanks to mobility
mobile base station and up to 4.70 m-long connecting tube to hand-held device with laser head
Easy marking of any surface
individual sealing units for the laser head make it possible to mark both smooth and curved parts
Marking of large areas
thanks to a variety of lenses with focal lengths from 63 mm to 160 mm, allowing you to create marking areas of up to 120 x 100 mm – or 400 x 380 mm, in special cases (focal lengths of up to 580 mm).
Simple, self-explanatory operation
Call up marking job, apply hand-held device, run marking process, mark, job done
Can be used anywhere with a power connection
230 V power supply, 300 W power consumption (engraving)
Individually cross-linkable
interfaces for network, monitor, keyboard, mouse come standard
Practical functions for successful engraving
The experiences of numerous Quasar users went into refining the design of the unique laser marking system from Mobil-Mark. Consequently, the series of devices is extremely user-friendly. From the sturdy, tilt-proof base station to the ergonomic hand-held device with conveniently arranged buttons and all the important operation and display elements, the Quasar is tailored to the practical requirements of day-to-day use.
Precisely adjustable engraving parameters
performance from 0 to 60 W and pulse frequency between 1 bis 400 kHz can be selected
Create markings on the device
full design software for marking jobs on WIN-PC integrated into the laser
Cross-linkable as required
Interface to company network (for job imports, for example) comes as standard
Corrosion-proof marking possible
in a protective gas atmosphere instead of air, e.g. for marking objects made of chromium-nickel steel for use in medicine, pharmaceuticals or food production
Maximum options for customisation
accessories available for every application, e.g. touchscreen or robotic automation. Customised, individual solutions also available upon request
Sturdy connection line
between laser and hand-held device made of durable stainless steel spiral coiled tube to protect electrical, pneumatic and optical conductors
Please contact us to receive advice from our experts.
Let us know if you have any questions, requests or suggestions. We look forward to receiving your call, e-mail or message via our contact form.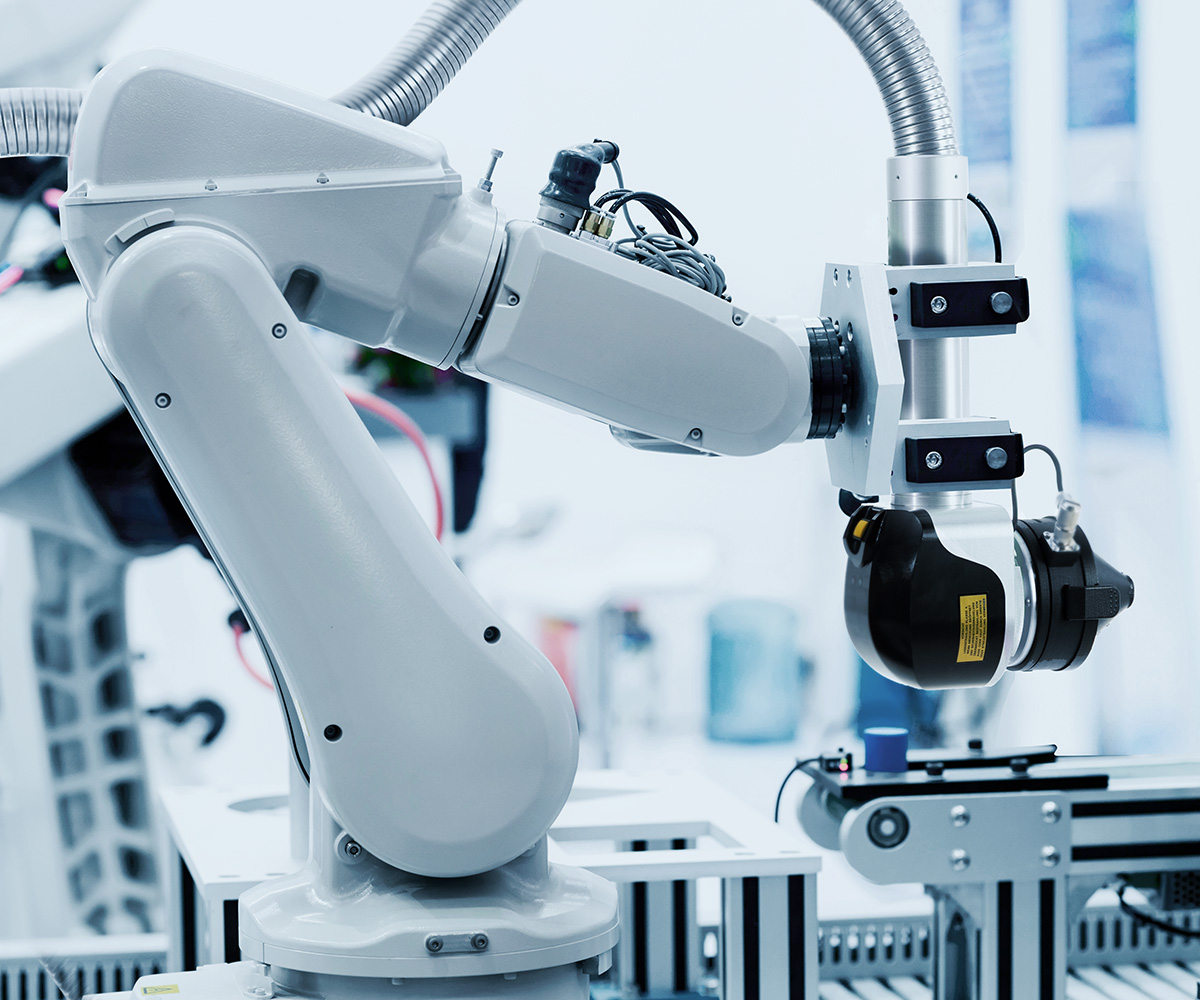 Sonderlösungen – Wir entwickeln, was Sie wünschen
Die perfekte Lösung für jeden denkbaren Einsatzbereich der mobilen und stationären Laser-Gravur zu bieten, ist Anspruch von Mobil-Mark. Wünschen Sie ein Zubehör, dass es noch nicht gibt? Wir entwickeln es für Sie – bedarfsorientiert, durchdacht und von bester Qualität "Made in Germany". Mobil-Mark ist damit auch Sondermaschinenbauer für individuell benötigte Markierlaser-Umgebungen. Wir entwickeln, was sie brauchen – garantiert.
Cutting-edge laser technology
The three Quasar models work with fibre laser technology, a special type of solid state laser. It offers a wide range of benefits in commercial and industrial applications.
High power density
In contrast to conventional CO2 lasers, fibre lasers are able to deliver an extremely small focus diameter: This means the intensity of the laser beam is up to 100 times higher than with CO2 lasers of the same power.
Particularly long service life
Mobil-Mark uses MOPA (master oscillator power amplifier) fibre lasers in the Quasar. This type of laser offers all the advantages of a fibre laser as well as the option of variably adjusting pulse durations. This makes it one of the most flexible lasers on the market, suitable for a wide range of material applications.
Engraving laser in action
Go to the video section